For years, Vita Spa has provided quality products that give people a space to relax and recover from daily stress on their body and mind. Through constant innovation, we have created a wide range of features that add to the experience and help you find complete relaxation in your own backyard.
Sit back, relax, and leave the world behind in a Vita Spa.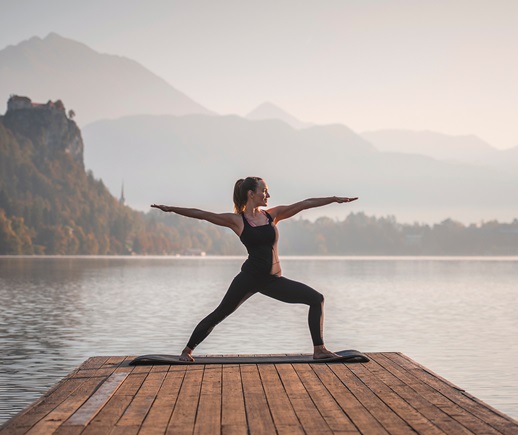 The Vita Spa Lifestyle
Living a healthy, balanced lifestyle is important to your overall health, and Vita Spa plays an integral role in helping you achieve harmony between your body and mind.

Experience You Can Trust
For over 30 years, Vita Spa has used innovation to create products that have provided people with the recovery their bodies and minds need.

Innovations
Learn about our process and features to provide you with current and state-of-the-art products.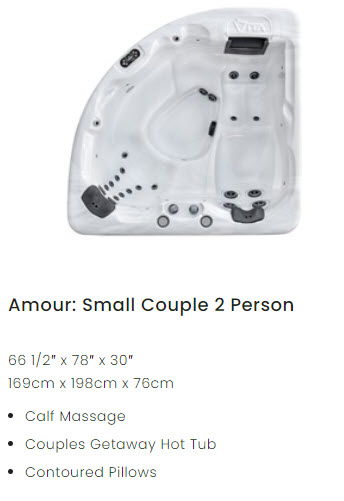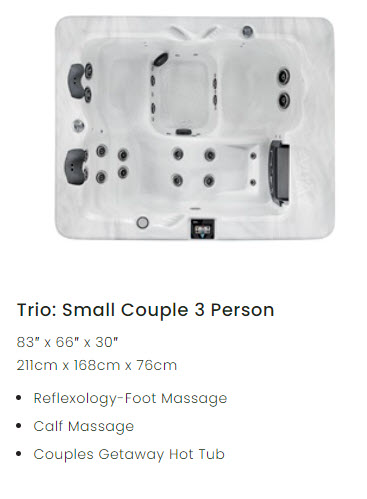 AMOUR FEATURES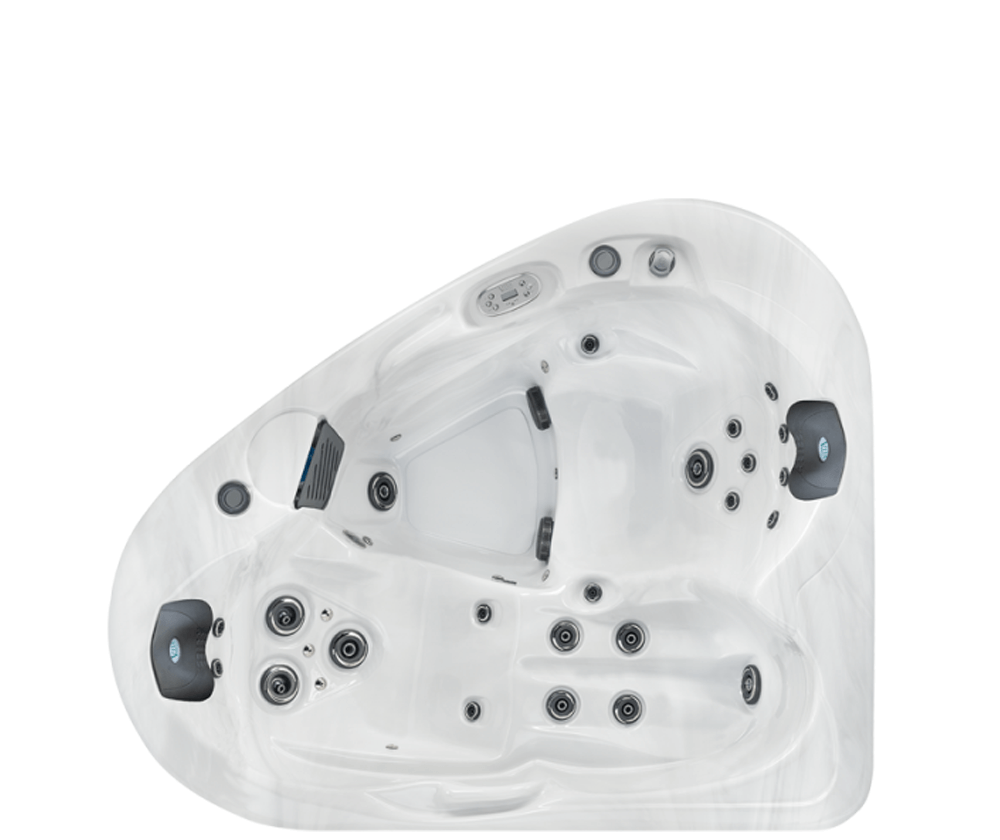 Specifications
Total Jets: 23
Water Capacity: 138 Gallons
Weight 548/1695
Standard Features
Excel-X™ Simulated Wood
Vital Energy Insulation System
Freeze/Overheat Protection System
Halo Pro-Loc™ Stainless Steel Jets
Dynamic LED Lighting
Drink Holders
240V/30A/40A (4-Wire)
Perma-Shield™ Bottom
Options
Blower 1.5Hp, 1Sp
Champagne Air with air injectors
Wifi Connectivity
CleanZone™ System
* Please Note: All specifications and standard and optional features subject to change without notice – please confirm listing with your sales person before buying
TRIO FEATURES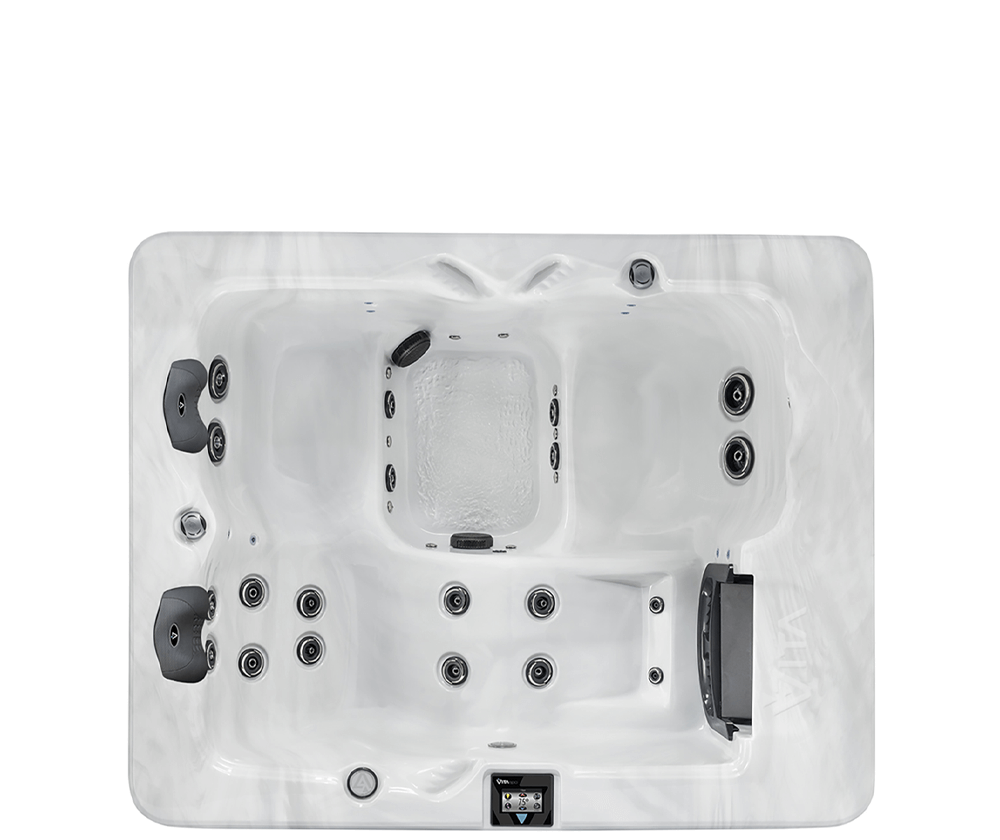 Specifications
Total Jets: 20
Water Capacity: 195 Gallons
Weight 578/2196
Standard Features
Pump 1: 56 Frame 2-Speed 6.0 bHP
Steel Frame
Excel-X™ Simulated Wood
Perma-Shield™ Bottom Pan
Northern Exposure® Insulation System
Freeze/Overheat Protection System
Halo Pro-Loc™ Stainless Steel Jets
AquaGlo™
Illuminated Spa Control Valves
Illuminated Drink Holders
SmartTouch 2 Controls
240V/40A/50A (4-Wire)
(4-Wire) 240V/40A/50A (spa)
Optional Features
Wifi Connectivity
CleanZone™ System
24-Hour Circulation Pump
Champagne Air with air injectors
CleanZone™ Ultra Dual Sanitization
* Please Note: All specifications and standard and optional features subject to change without notice – please confirm listing with your sales person before buying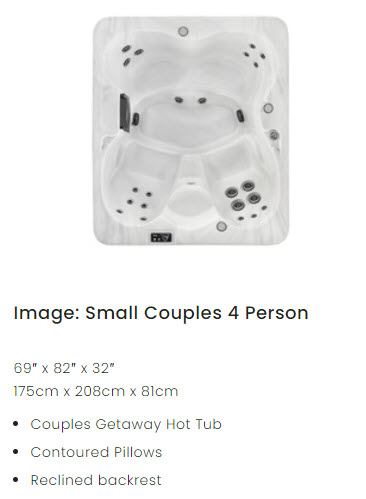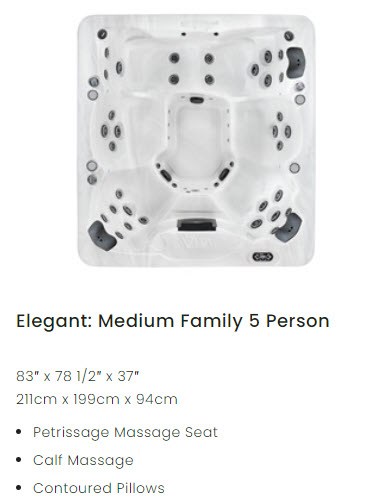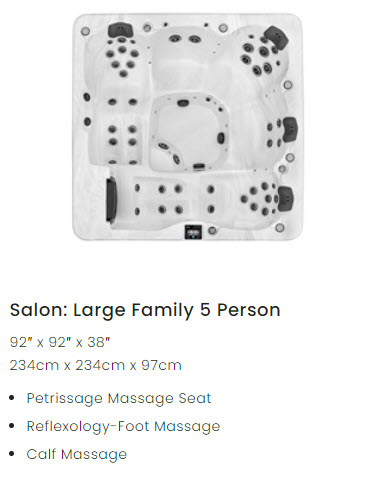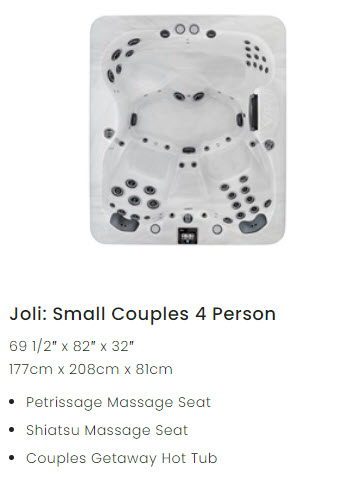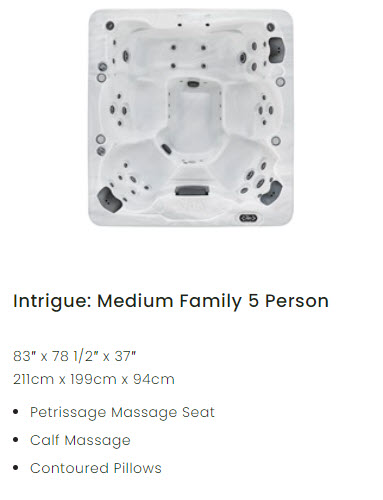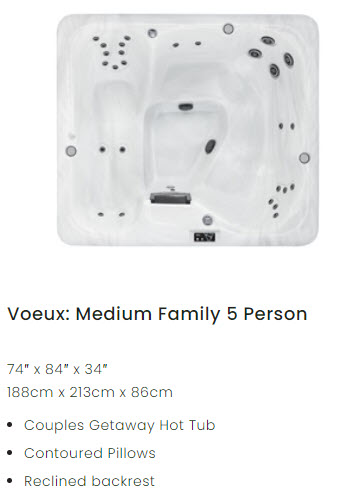 IMAGE DESCRIPTION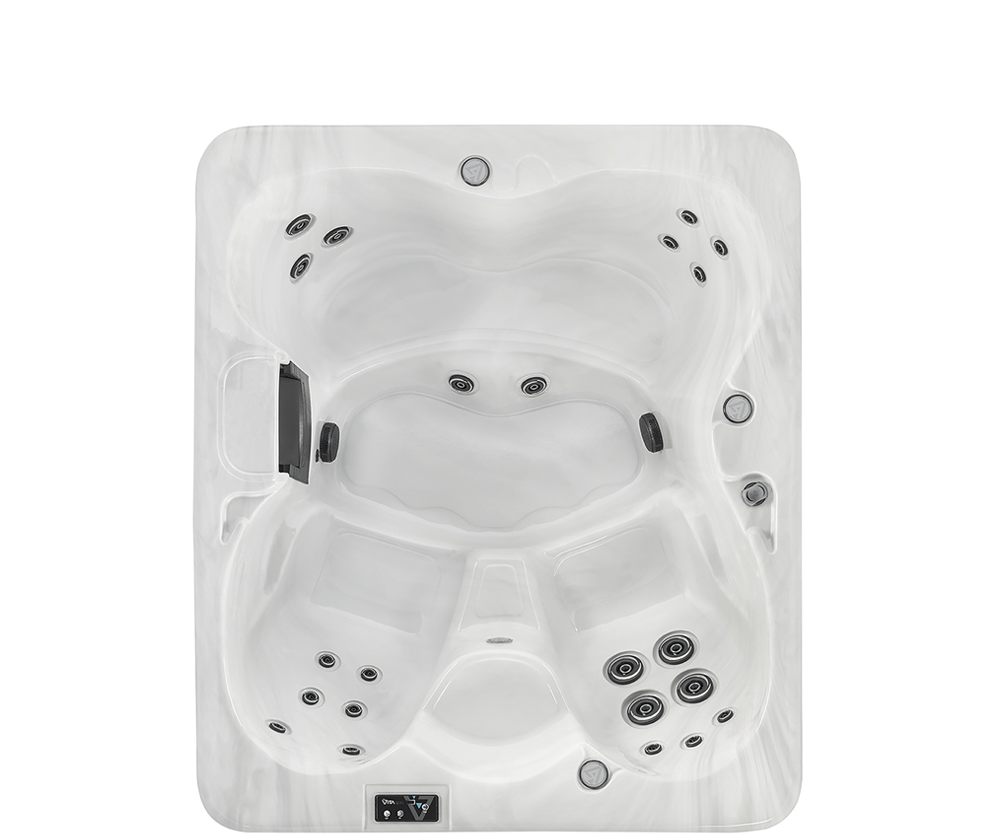 Specifications
Total Jets: 22
Water Capacity: 237 Gallons
Weight 618/2586
Standard Features
Pump 1: 56 Frame 2-Speed 1.5Hp/3.0bHp
Excel-X™ Simulated Wood
Perma-Shield™ Bottom Pan
Vital Energy Insulation System
Freeze/Overheat Protection System
Halo Pro-Loc™ Stainless Steel Jets
Dynamic LED Lighting
Illuminated Drink Holders
240V/30A/40A (4-Wire)
Optional Features
CleanZone™ System
120V/15A/30A (3-Wire)
240V/40A/50A (4-Wire)
* Please Note: All specifications and standard and optional features subject to change without notice – please confirm listing with your sales person before buying
JOLI DESCRIPTION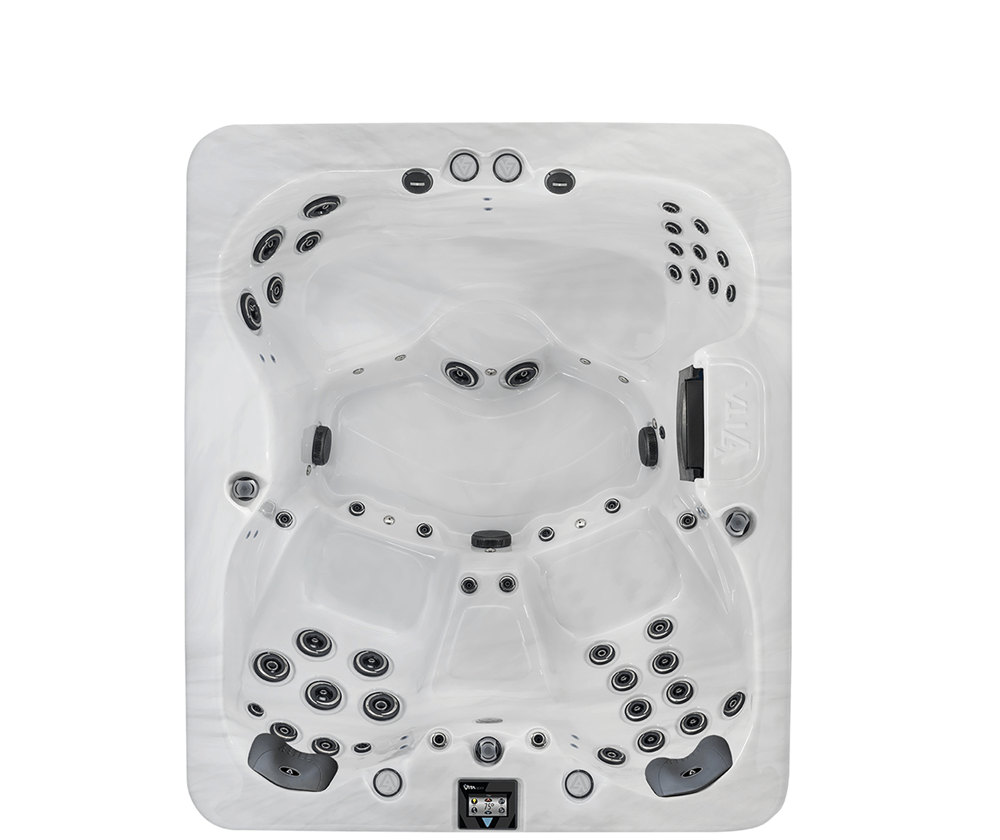 Specifications
Total Jets: 44
Water Capacity: 239 Gallons
Weight 697/2,685 lbs
Standard Features
Pump 1: 56 Frame 2-Speed 6.0 bHP
Pump 2: 56 Frame 2-Speed 6.0 bHP
Steel Frame
Excel-X™ Simulated Wood
Perma-Shield™ Bottom Pan
Northern Exposure® Insulation System
Freeze/Overheat Protection System
Halo Pro-Loc™ Stainless Steel Jets
AquaGlo™
Aurora Cascade Water Feature QTY: 2
Illuminated Spa Control Valves
Illuminated Drink Holders
SmartTouch 2 Controls
240V/40A/60A (4-Wire)
Optional Features
Wifi Connectivity
CleanZone™ System
Vita Tunes
24-Hour Circulation Pump
Champagne Air with air injectors
* Please Note: All specifications and standard and optional features subject to change without notice – please confirm listing with your sales person before buying
ELEGANT DESCRIPTION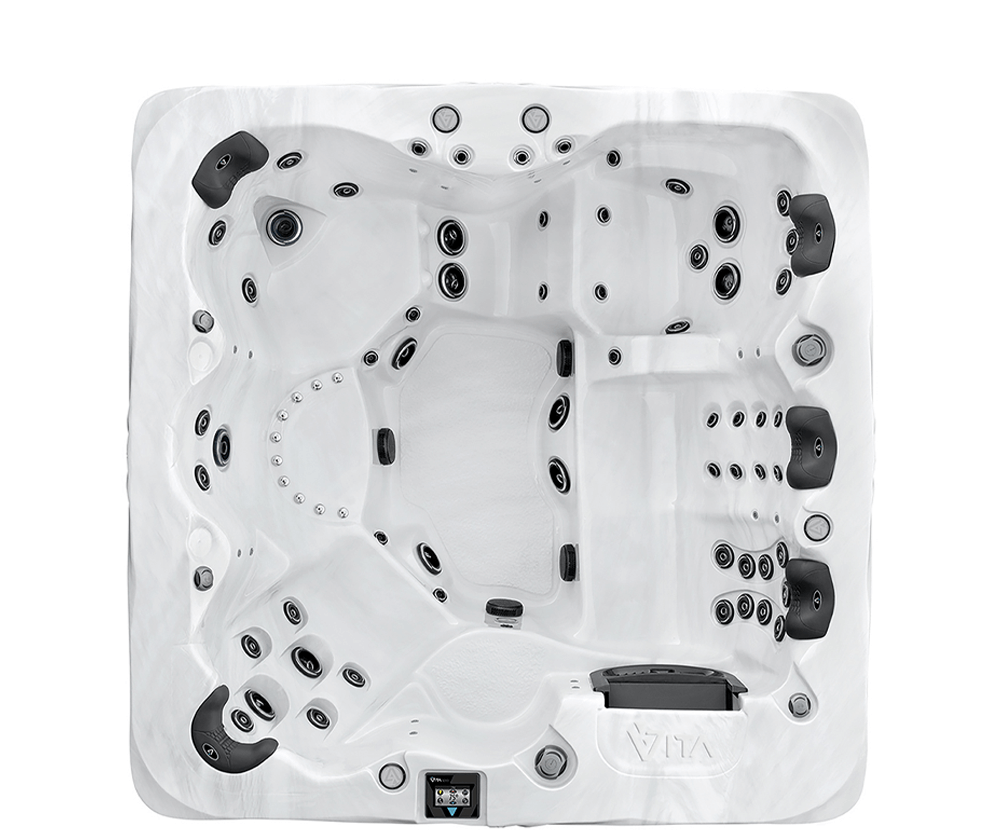 Specifications
Total Jets: 39
Water Capacity: 331 Gallons
Weight 791/3539
Standard Features
Pump 1: 56 Frame 2-Speed 5.0 bHP
Pump 2: 56 Frame 1-Speed 5.0 bHP
Excel-X™ Simulated Wood
Vital Energy Insulation System
Freeze/Overheat Protection System
Halo Pro-Loc™ Stainless Steel Jets
Dynamic LED Lighting
Waterfall – QTY: 1
Illuminated Spa Control Valves
Illuminated Drink Holders
240V/40A/60A (4-Wire)
Perma-Shield™ Bottom
Optional Features
24-Hour Circulation Pump
Blower 1.5Hp, 1Sp
Champagne Air with air injectors
Wifi Connectivity
CleanZone™ System
Vita Tunes
* Please Note: All specifications and standard and optional features subject to change without notice – please confirm listing with your sales person before buying
INTRIGUE DESCRIPTION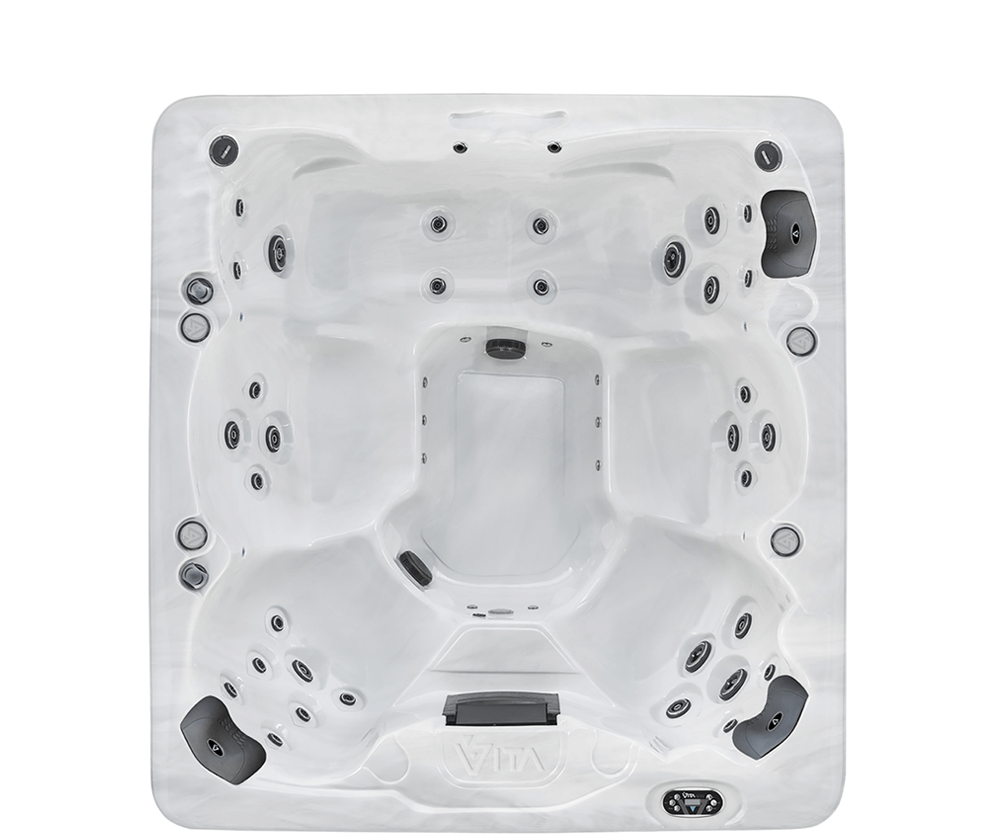 Specifications
Total Jets: 33
Water Capacity: 331 Gallons
Weight 767/3,515 lbs
Standard Features
Pump 1: 56 Frame 2-Speed 6.0 bHP
Excel-X™ Simulated Wood
Vital Energy Insulation System
Freeze/Overheat Protection System
Halo Pro-Loc™ Stainless Steel Jets
24-Hour Circulation Pump – QTY: 1
Dynamic LED Lighting
Waterfall – QTY: 1
Illuminated Spa Control Valves
Illuminated Drink Holders
Lounge QTY: 1
240V/40A/50A (4-Wire)
Perma-Shield™ Bottom
Optional Features
Blower 1.5Hp, 1Sp
Wifi Connectivity
CleanZone™ System
Vita Tunes
Champagne Air with air injectors
* Please Note: All specifications and standard and optional features subject to change without notice – please confirm listing with your sales person before buying
SALON DESCRIPTION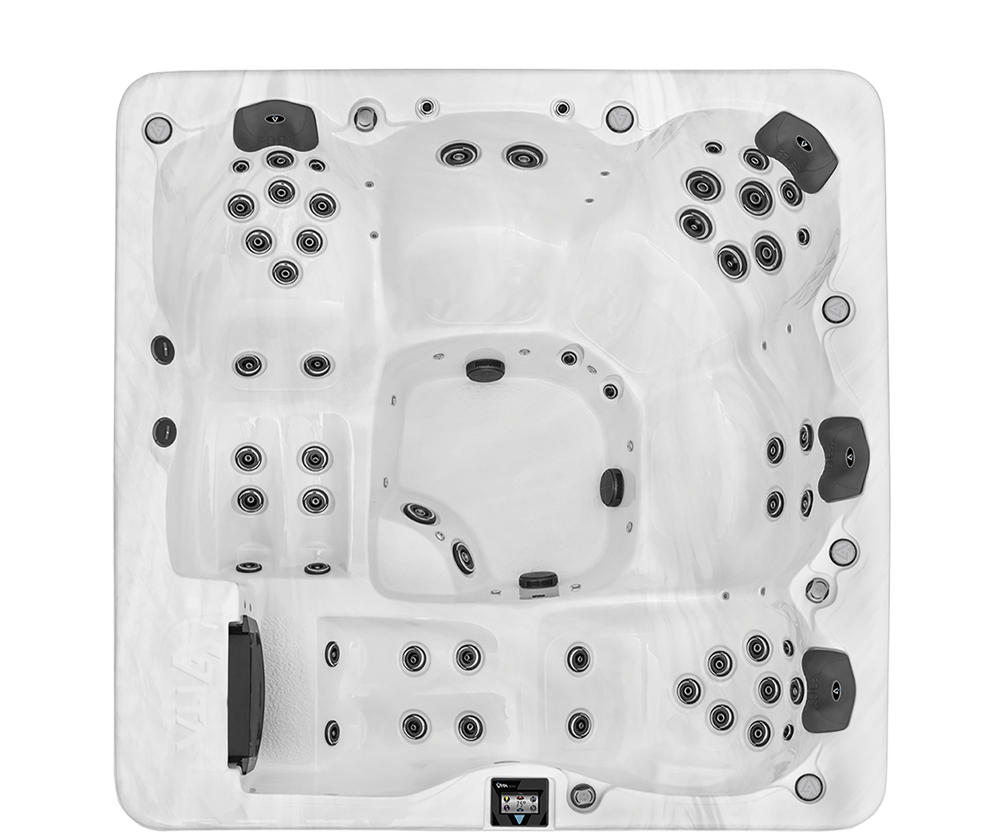 Specifications
Total Jets: 53
Water Capacity: 409 Gallons
Weight 952/4,345 lbs
Standard Features
Pump 1: 56 Frame 2-Speed 6.0 bHP
Pump 2: 56 Frame 2-Speed 6.0 bHP
Steel Frame
Excel-X™ Simulated Wood
Perma-Shield™ Bottom Pan
Northern Exposure® Insulation System
Freeze/Overheat Protection System
Halo Pro-Loc™ Stainless Steel Jets
AquaGlo™
Aurora Cascade Water Feature – QTY: 2
Illuminated Spa Control Valves
Illuminated Drink Holders
SmartTouch 2 Controls
240V/40A/60A (4-Wire)
Optional Features
24-Hour Circulation Pump
Blower 1.5Hp, 1Sp
Champagne Air with air injectors
Wifi Connectivity
CleanZone™ System
CleanZone™ Ultra Dual Sanitization System
Vita Tunes
* Please Note: All specifications and standard and optional features subject to change without notice – please confirm listing with your sales person before buying
VOUEX DESCRIPTION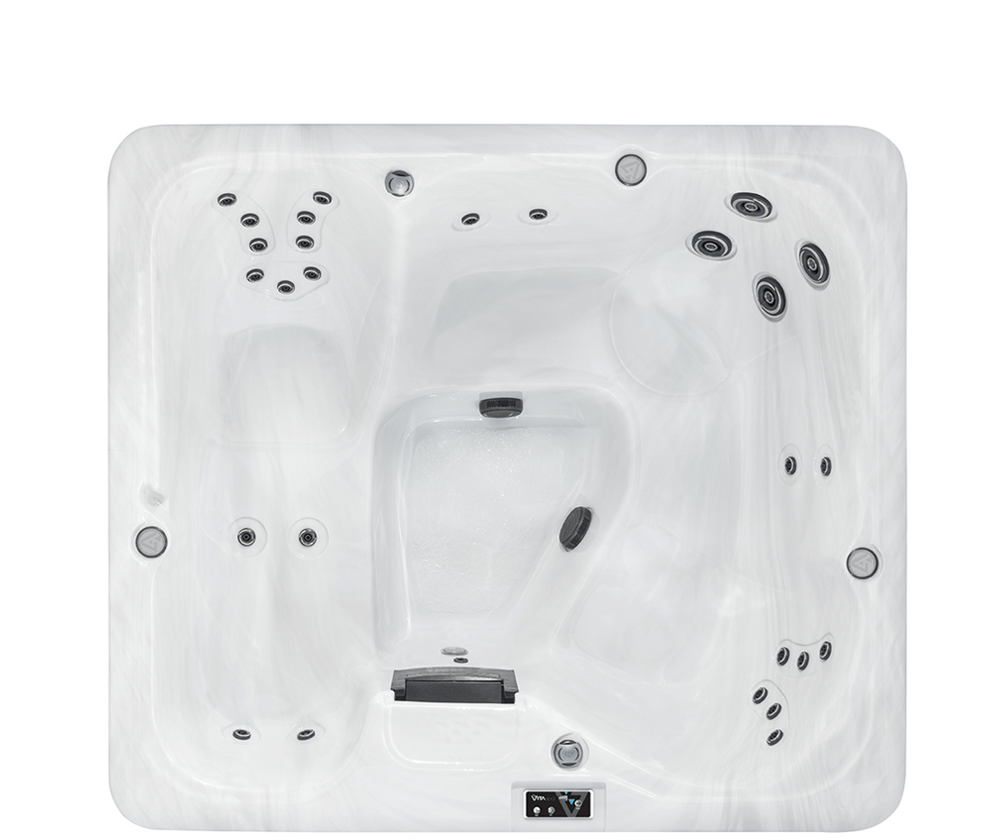 Specifications
Total Jets: 27
Water Capacity: 271 Gallons
Weight 635/2,884 lbs
Standard Features
Pump 1: 56 Frame 2-Speed 1.5Hp/3.0bHp
Excel-X™ Simulated Wood
Perma-Shield™ Bottom Pan
Vital Energy Insulation System
Freeze/Overheat Protection System
Halo Pro-Loc™ Stainless Steel Jets
Dynamic LED Lighting
Illuminated Drink Holders
240V/40A/50A (4-Wire)
240V/30A/40A (4-Wire)
Optional Features
CleanZone™ System
* Please Note: All specifications and standard and optional features subject to change without notice – please confirm listing with your sales person before buying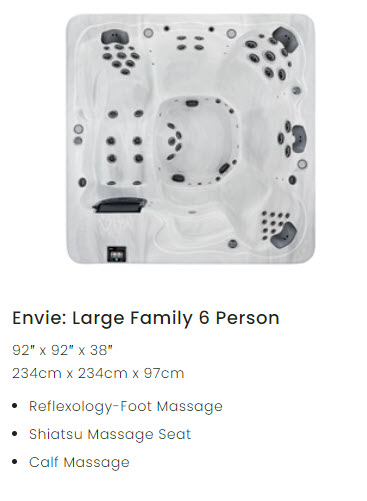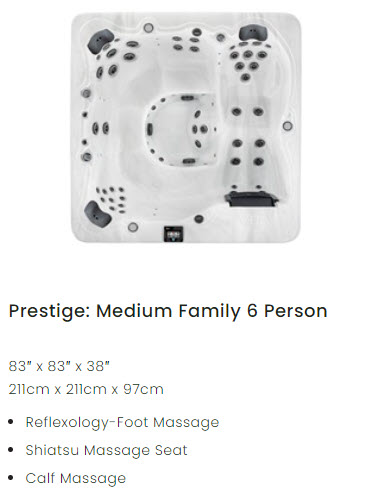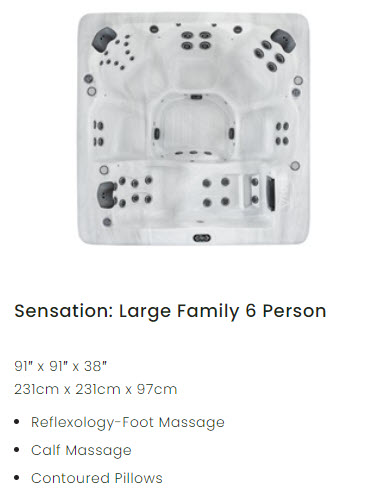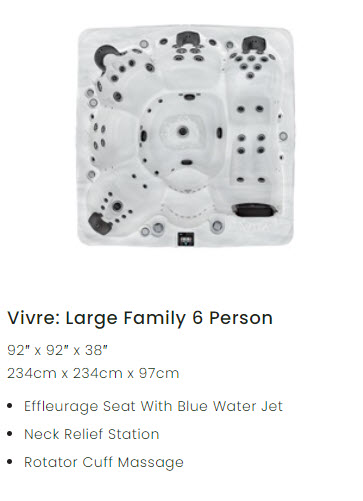 ENVIE DESCRIPTION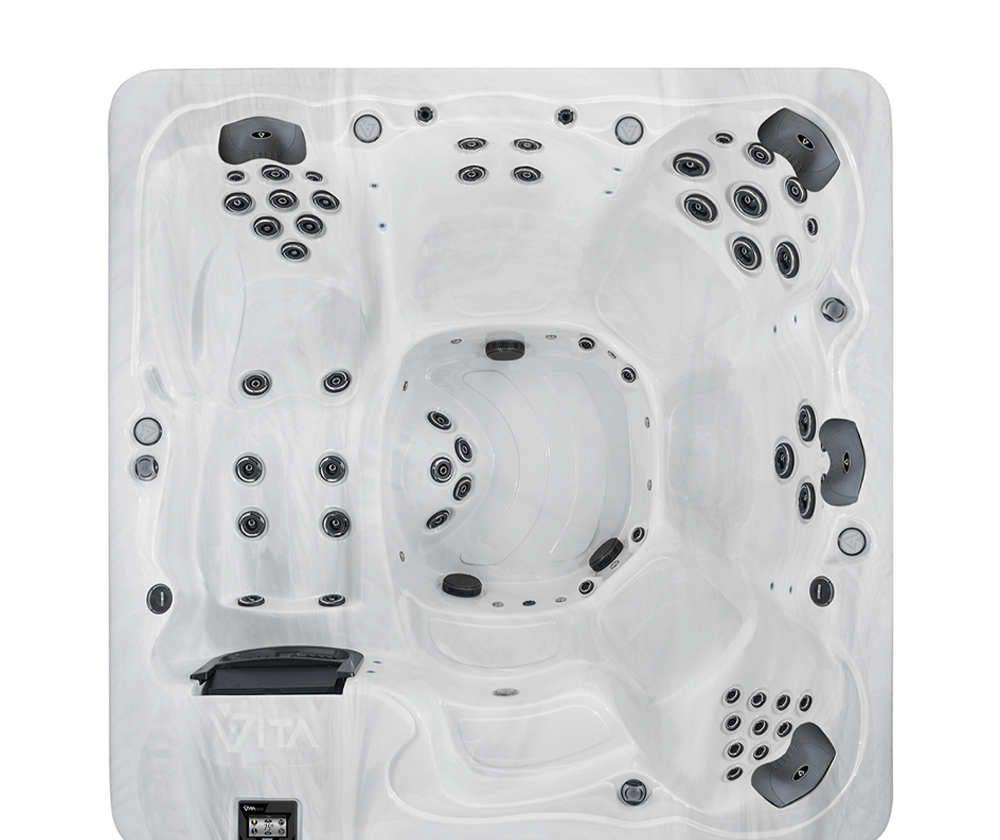 Specifications
Total Jets: 54
Water Capacity: 385 Gallons
Weight 889/4,082 lbs
Standard Features
Pump 1: 56 Frame 2-Speed 6.0 bHP
Pump 2: 56 Frame 2-Speed 6.0 bHP
Steel Frame
Excel-X™ Simulated Wood
Perma-Shield™ Bottom Pan
Northern Exposure® Insulation System
Freeze/Overheat Protection System
Halo Pro-Loc™ Stainless Steel Jets
AquaGlo™
Aurora Cascade Water Feature – QTY: 2
Illuminated Spa Control Valves
Illuminated Drink Holders
SmartTouch 2 Controls
240V/40A/60A (4-Wire)
Optional Features
24-Hour Circulation Pump
Champagne Air with air injectors
Wifi Connectivity
CleanZone™ System
CleanZone™ Ultra Dual Sanitization System
Vita Tunes
* Please Note: All specifications and standard and optional features subject to change without notice – please confirm listing with your sales person before buying
PRESTIGE DESCRIPTION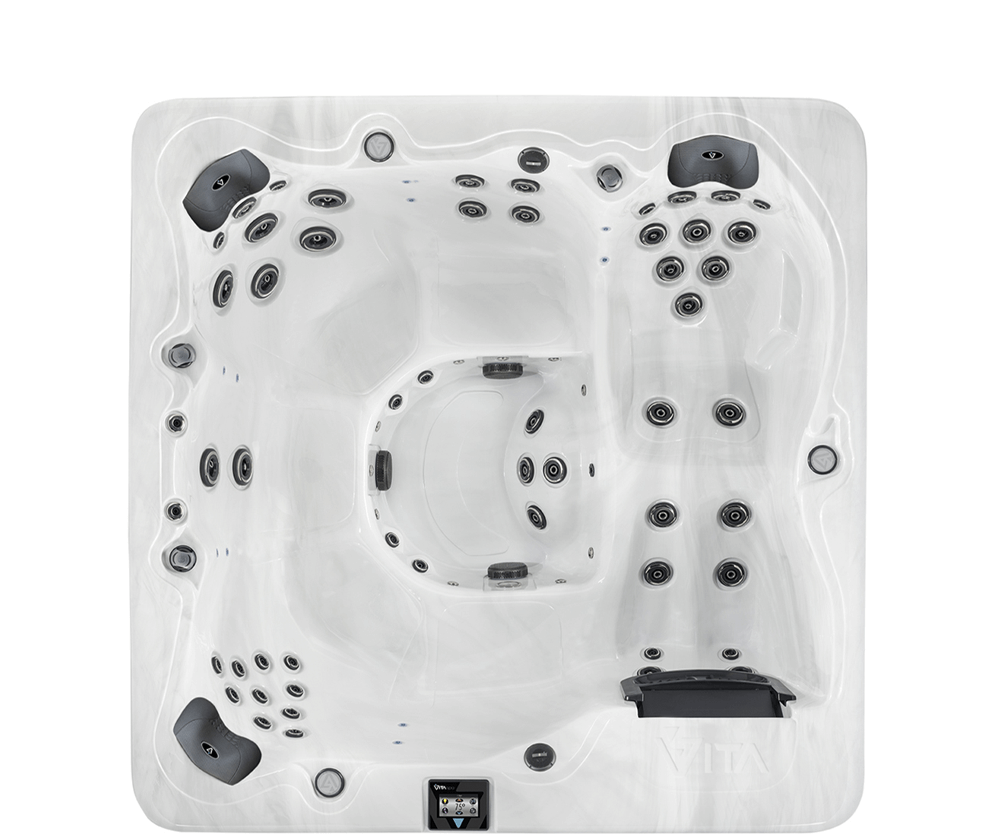 Specifications
Total Jets: 52
Water Capacity: 307 Gallons
Weight 853/3,424 lbs
Standard Features
Pump 1: 56 Frame 2-Speed 6.0 bHP
Pump 2: 56 Frame 2-Speed 6.0 bHP
Steel Frame
Excel-X™ Simulated Wood
Perma-Shield™ Bottom Pan
Northern Exposure® Insulation System
Freeze/Overheat Protection System
Halo Pro-Loc™ Stainless Steel Jets
AquaGlo™
Aurora Cascade Water Feature – QTY: 2
Illuminated Spa Control Valves
Illuminated Drink Holders
SmartTouch 2 Controls
240V/40A/60A (4-Wire)
Optional Features
24-Hour Circulation Pump
Blower 1.5Hp, 1Sp
Champagne Air with air injectors
Wifi Connectivity
CleanZone™ System
CleanZone™ Ultra Dual Sanitization System
Vita Tunes
* Please Note: All specifications and standard and optional features subject to change without notice – please confirm listing with your sales person before buying
SENSATION DESCRIPTION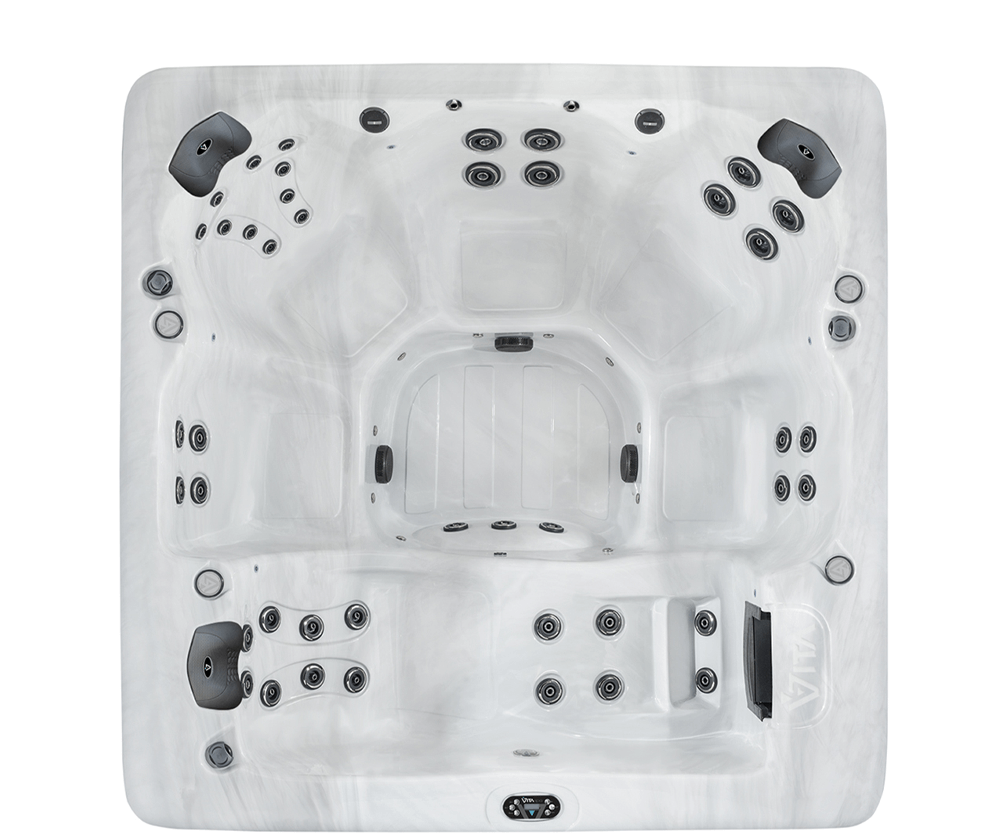 Specifications
Total Jets: 43
Water Capacity: 418 Gallons
Weight 887/4,358 lbs
Standard Features
Pump 1: 56 Frame 2-Speed 5.0 bHP
Pump 2: 56 Frame 1-Speed 5.0 bHP
Excel-X™ Simulated Wood
Perma-Shield™ Bottom Pan
Vital Energy Insulation System
Freeze/Overheat Protection System
Halo Pro-Loc™ Stainless Steel Jets
Dynamic LED Lighting
Waterfall – QTY: 1
Illuminated Spa Control Valves
Illuminated Drink Holders
Hybrid Sub-Structure
240V/40A/60A (4-Wire)
Optional Features
24-Hour Circulation Pump
Blower 1.5Hp, 1Sp
Champagne Air with air injectors
Wifi Connectivity
CleanZone™ System
CleanZone™ Ultra Dual Sanitization System
Vita Tunes
* Please Note: All specifications and standard and optional features subject to change without notice – please confirm listing with your sales person before buying
VIVRE DESCRIPTION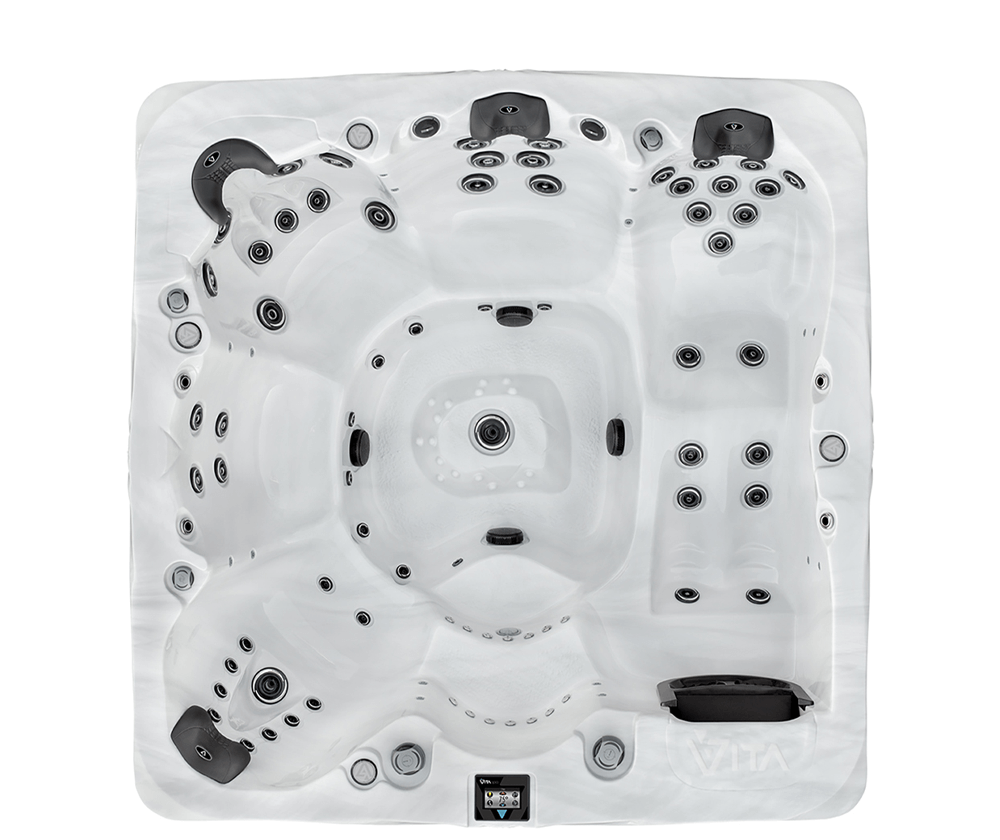 Specifications
Total Jets: 61
Water Capacity: 446 Gallons
Weight 1160/4,862 lbs
Standard Features
Pump 1: 56 Frame 2-Speed 6.0 bHP
Pump 2: 56 Frame 2-Speed 6.0 bHP
Pump 3: 56 Frame 1-Speed 6.0 bHP
Steel Frame
Excel-X™ Simulated Wood
Perma-Shield™ Bottom Pan
Northern Exposure® Insulation System
Freeze/Overheat Protection System
Halo Pro-Loc™ Stainless Steel Jets
AquaGlo™
Aurora Cascade Water Feature – QTY: 4
Illuminated Spa Control Valves
Illuminated Drink Holders
SmartTouch 2 Controls
Perma-Shield™ Bottom
Optional Features
24-Hour Circulation Pump
Champagne Air with air injectors
Wifi Connectivity
CleanZone™ System
CleanZone™ Ultra Dual Sanitization System
Vita Tunes
Pedestal Lights
24-Hour Circ Pump (220V only)
* Please Note: All specifications and standard and optional features subject to change without notice – please confirm listing with your sales person before buying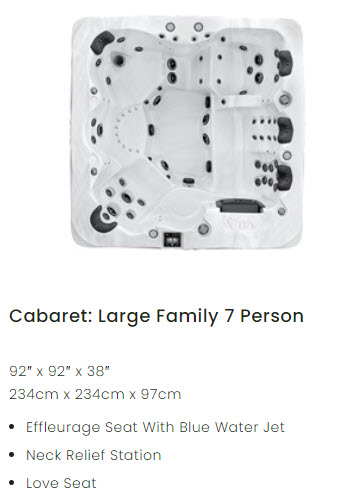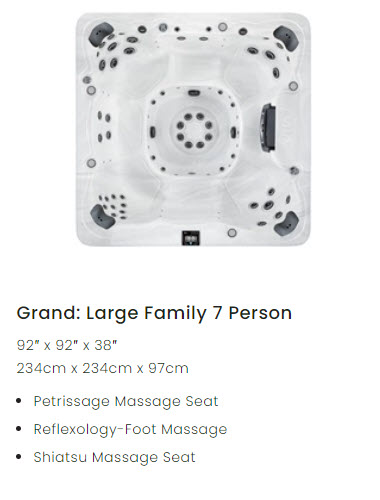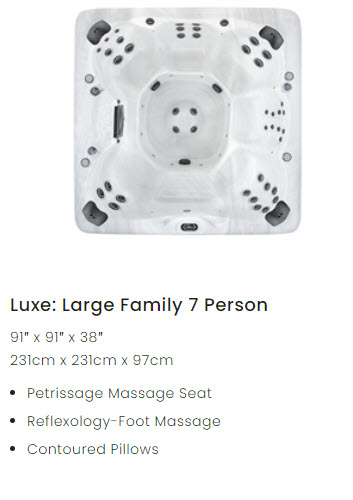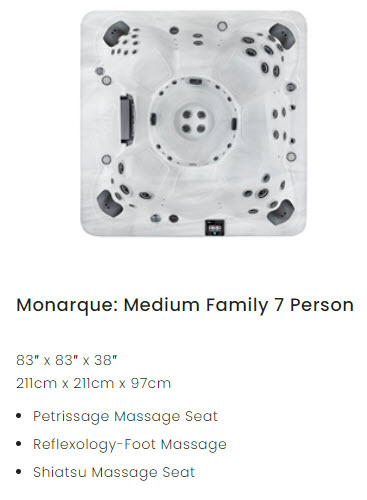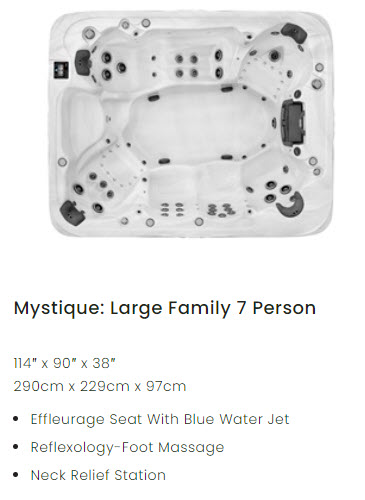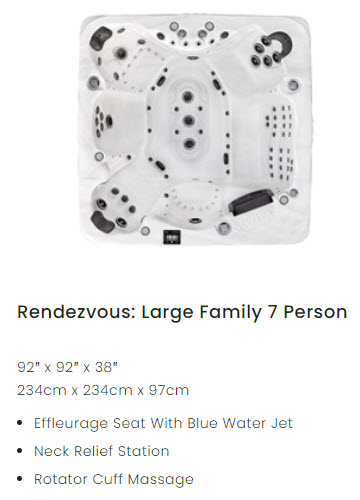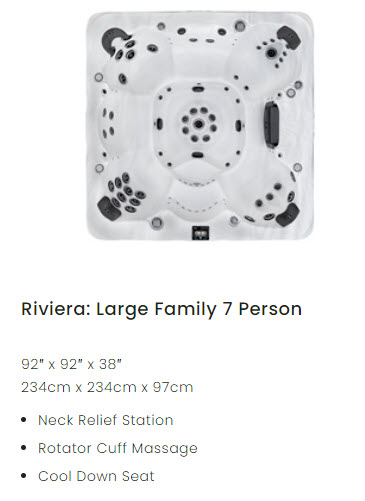 CABARET DESCRIPTION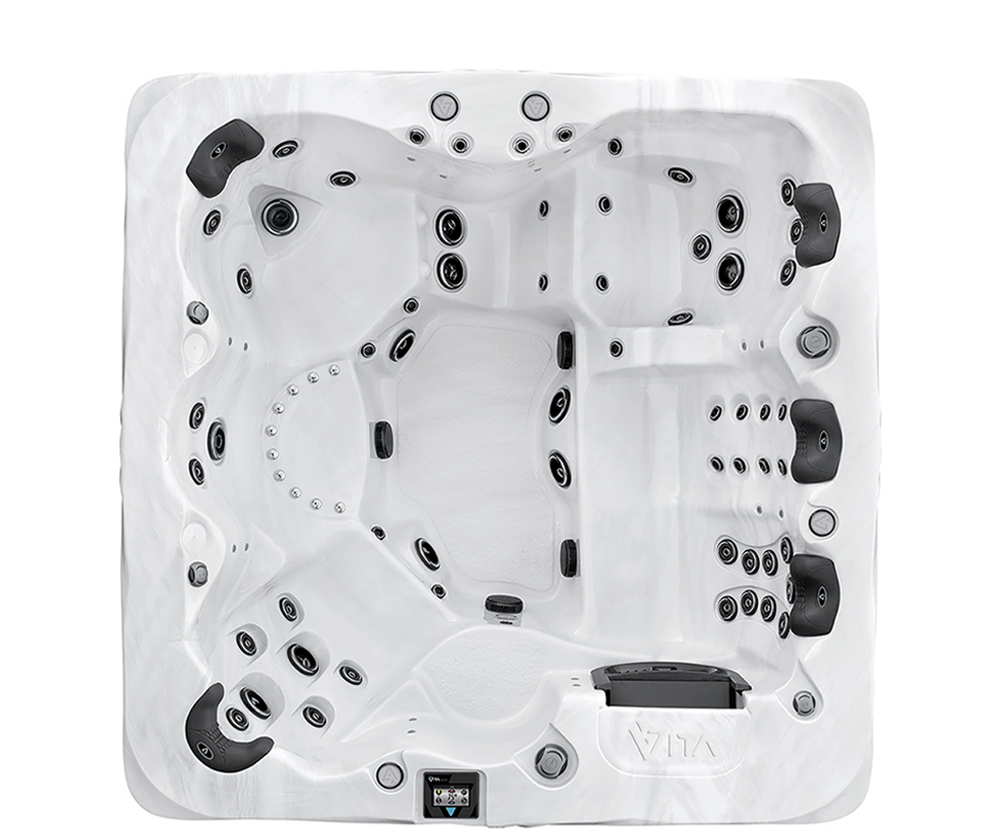 Specifications
Total Jets: 62
Water Capacity: 430 Gallons
Weight 1,100/4,672 lbs
Standard Features
Pump 1: 56 Frame 2-Speed 6.0 bHP
Pump 2: 56 Frame 2-Speed 6.0 bHP
Pump 3: 56 Frame 1-Speed 6.0 bHP
Steel Frame
Excel-X™ Simulated Wood
Perma-Shield™ Bottom Pan
Northern Exposure® Insulation System
Freeze/Overheat Protection System
Halo Pro-Loc™ Stainless Steel Jets
AquaGlo™
Aurora Cascade Water Feature – QTY: 4
Illuminated Spa Control Valves
Illuminated Drink Holders
SmartTouch 2 Controls
240V/40A/60A (4-Wire)
Perma-Shield™ Bottom
Optional Features
24-Hour Circulation Pump
Champagne Air with air injectors
Wifi Connectivity
CleanZone™ System
CleanZone™ Ultra Dual Sanitization
Vita Tunes
Pedestal Lights
* Please Note: All specifications and standard and optional features subject to change without notice – please confirm listing with your sales person before buying
GRAND DESCRIPTION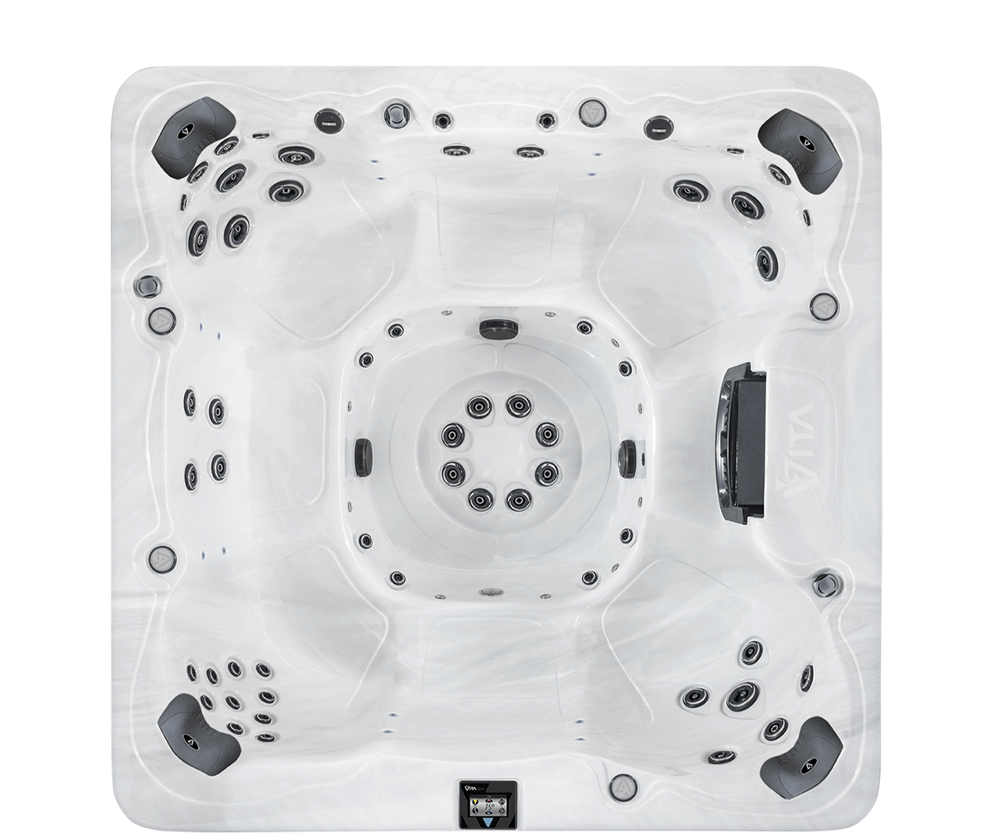 Specifications
Total Jets: 53
Water Capacity: 399 Gallons
Weight 893/4,208 lbs
Standard Features
Pump 1: 56 Frame 2-Speed 6.0 bHP
Pump 2: 56 Frame 2-Speed 6.0 bHP
Steel Frame
Excel-X™ Simulated Wood
Perma-Shield™ Bottom Pan
Northern Exposure® Insulation System
Freeze/Overheat Protection System
Halo Pro-Loc™ Stainless Steel Jets
AquaGlo™
Aurora Cascade Water Feature – QTY: 2
Illuminated Spa Control Valves
Illuminated Drink Holders
SmartTouch 2 Controls
240V/40A/60A (4-Wire)
Optional Features
24-Hour Circulation Pump
Blower 1.5Hp, 1Sp
Champagne Air with air injectors
Wifi Connectivity
CleanZone™ System
CleanZone™ Ultra Dual Sanitization System
Vita Tunes
* Please Note: All specifications and standard and optional features subject to change without notice – please confirm listing with your sales person before buying
LUXE DESCRIPTION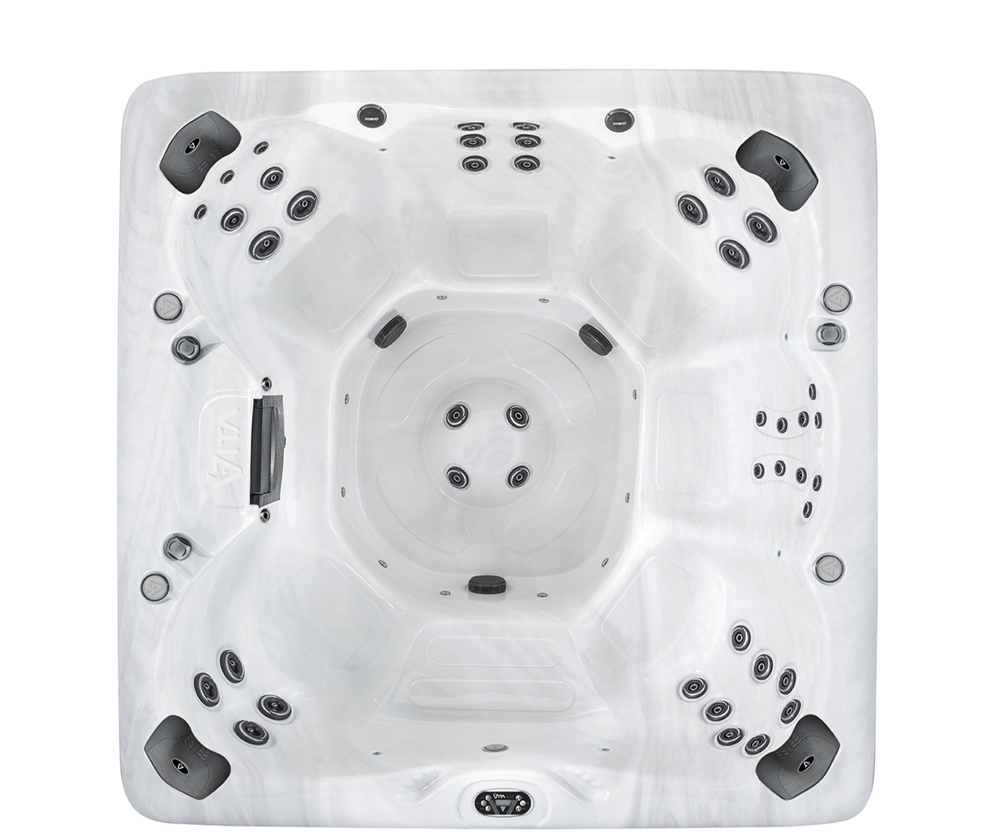 Specifications
Total Jets: 43
Water Capacity: 463 Gallons
Weight 915/4,755 lbs
Standard Features
Pump 1: 56 Frame 2-Speed 5.0 bHP
Pump 2: 56 Frame 1-Speed 5.0 bHP
Excel-X™ Simulated Wood
Perma-Shield™ Bottom Pan
Vital Energy Insulation System
Freeze/Overheat Protection System
Halo Pro-Loc™ Stainless Steel Jets
Digital Color Optic Lighting
Dynamic LED Lighting
Waterfall – QTY: 1
Illuminated Spa Control Valves
Illuminated Drink Holders
Hybrid Sub-Structure
240V/40A/60A (4-Wire)
Optional Features
24-Hour Circulation Pump
Blower 1.5Hp, 1Sp
Champagne Air with air injectors
Wifi Connectivity
CleanZone™ System
CleanZone™ Ultra Dual Sanitization System
Vita Tunes
* Please Note: All specifications and standard and optional features subject to change without notice – please confirm listing with your sales person before buying
MONARQUE DESCRIPTION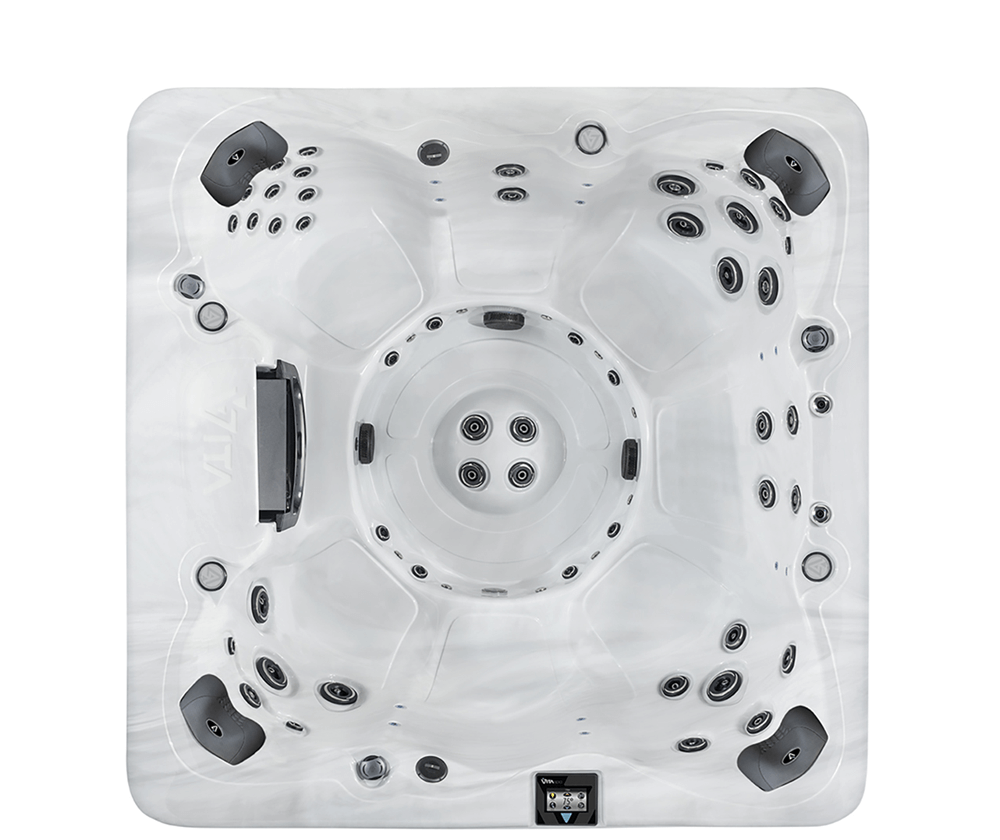 Specifications
Total Jets: 49
Water Capacity: 314 Gallons
Weight 776/3,388 lbs
Standard Features
Pump 1: 56 Frame 2-Speed 6.0 bHP
Pump 2: 56 Frame 2-Speed 6.0 bHP
Steel Frame
Excel-X™ Simulated Wood
Perma-Shield™ Bottom Pan
Northern Exposure® Insulation System
Freeze/Overheat Protection System
Halo Pro-Loc™ Stainless Steel Jets
AquaGlo™
Aurora Cascade Water Feature – QTY: 2
Illuminated Spa Control Valves
Illuminated Drink Holders
SmartTouch 2 Controls
240V/40A/60A (4-Wire)
Optional Features
24-Hour Circulation Pump
Blower 1.5Hp, 1Sp
Champagne Air with air injectors
Wifi Connectivity
CleanZone™ System
CleanZone™ Ultra Dual Sanitization System
Vita Tunes
* Please Note: All specifications and standard and optional features subject to change without notice – please confirm listing with your sales person before buying
MYSTIQUE DESCRIPTION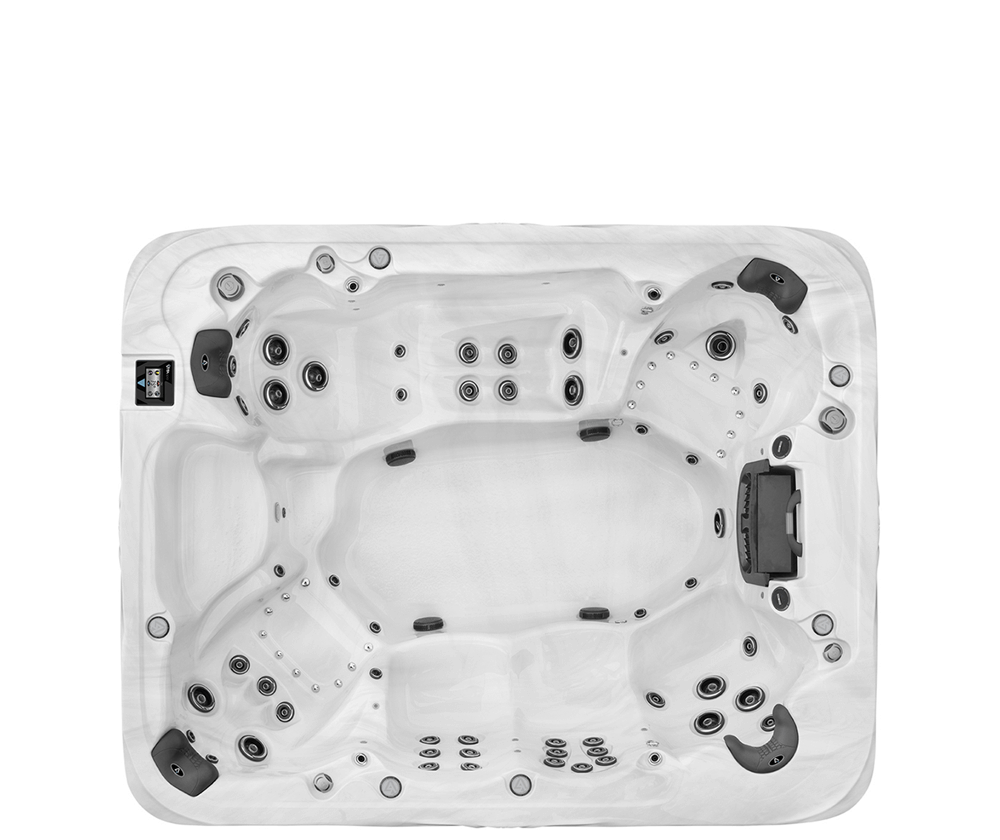 Specifications
Total Jets: 57
Water Capacity: 517 Gallons
Weight 1,229/5,523 lbs
Standard Features
Pump 1: 56 Frame 2-Speed 6.0 bHP
Pump 2: 56 Frame 2-Speed 6.0 bHP
Pump 3: 56 Frame 1-Speed 6.0 bHP
Steel Frame
Excel-X™ Simulated Wood
Perma-Shield™ Bottom Pan
Northern Exposure® Insulation System
Freeze/Overheat Protection System
Halo Pro-Loc™ Stainless Steel Jets
Champagne Air with air injectors
AquaGlo™
Aurora Cascade Water Feature – QTY: 4
Illuminated Drink Holders
SmartTouch 2 Controls
240V/40A/60A (4-Wire)
Perma-Shield™ Bottom
Optional Features
24-Hour Circulation Pump
Wifi Connectivity
CleanZone™ System
CleanZone™ Ultra Dual Sanitization System
Vita Tunes
Exercise Equipment
Pedestal Lights
* Please Note: All specifications and standard and optional features subject to change without notice – please confirm listing with your sales person before buying
RENDEZVOUS DESCRIPTION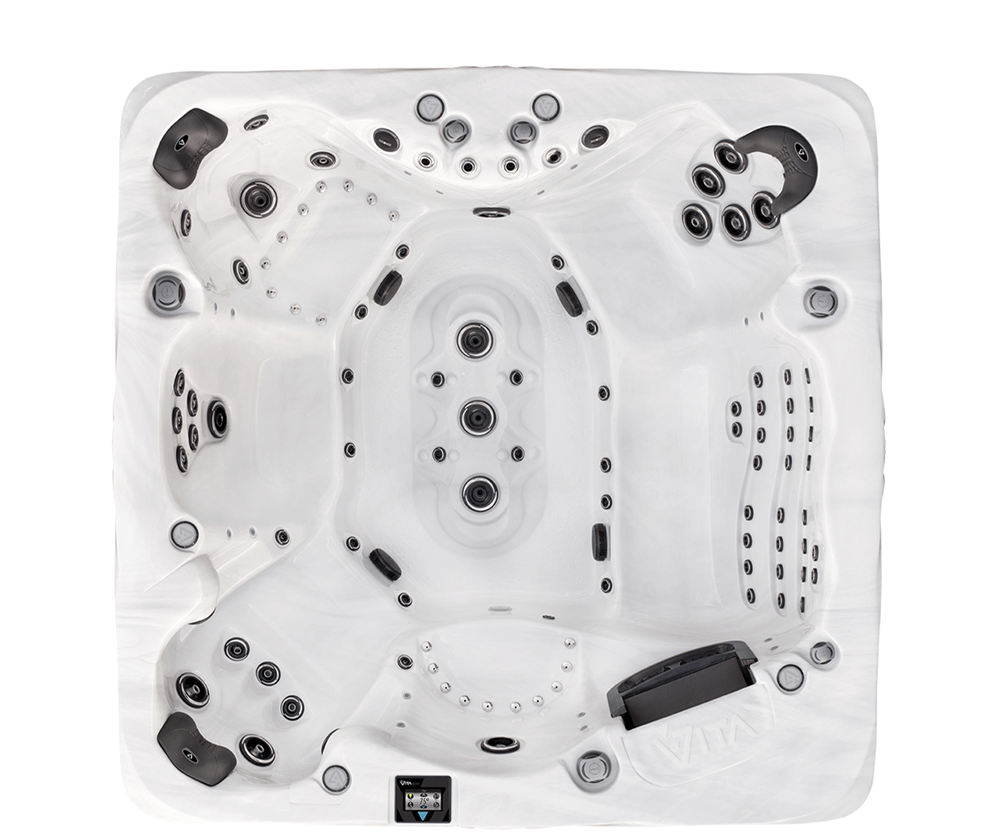 Specifications
Total Jets: 78
Water Capacity: 441 Gallons
Weight 1,170/4,877 lbs
Standard Features
Pump 1: 56 Frame 2-Speed 6.0 bHP
Pump 2: 56 Frame 2-Speed 6.0 bHP
Pump 3: 56 Frame 1-Speed 6.0 bHP
Steel Frame
Excel-X™ Simulated Wood
Perma-Shield™ Bottom Pan
Northern Exposure® Insulation System
Freeze/Overheat Protection System
Halo Pro-Loc™ Stainless Steel Jets
AquaGlo™
Aurora Cascade Water Feature – QTY: 2
Illuminated Spa Control Valves
Illuminated Drink Holders
SmartTouch 2 Controls
240V/40A/60A (4-Wire)
Perma-Shield™ Bottom
Optional Features
24-Hour Circulation Pump
Champagne Air with air injectors
Wifi Connectivity
CleanZone™ System
CleanZone™ Ultra Dual Sanitization System
Vita Tunes
Pedestal Lights
* Please Note: All specifications and standard and optional features subject to change without notice – please confirm listing with your sales person before buying
RIVIERA DESCRIPTION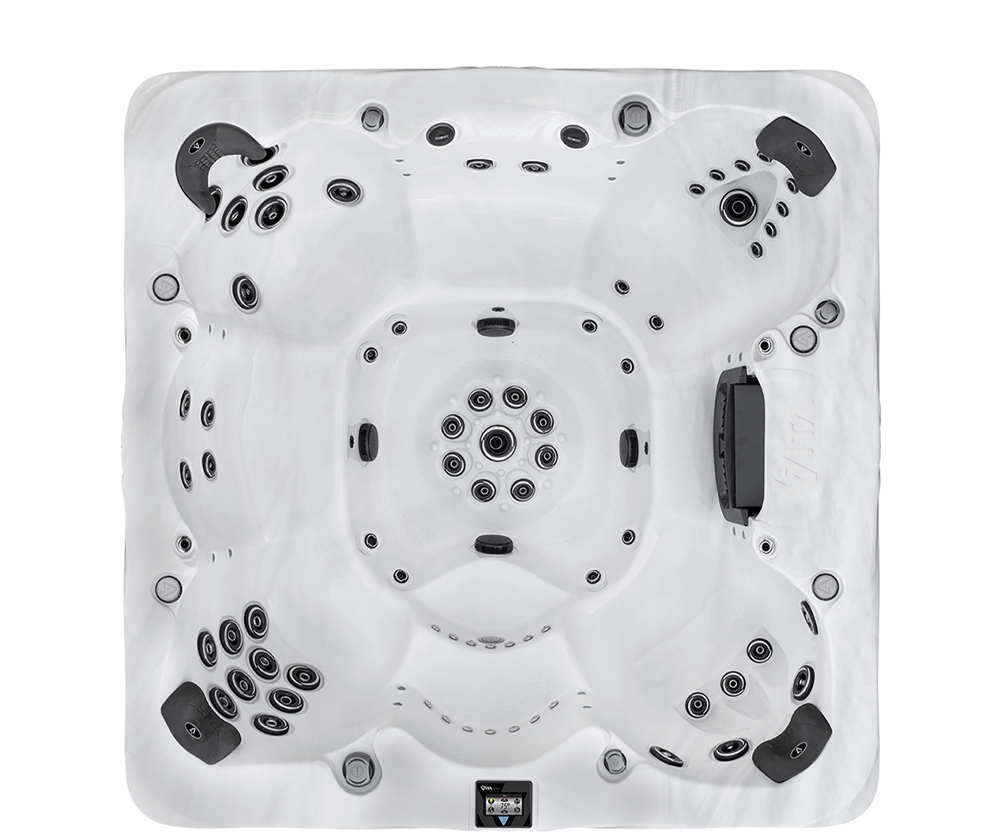 Specifications
Total Jets: 61
Water Capacity: 419 Gallons
Weight 1,143/4,626 lbs
Standard Features
Pump 1: 56 Frame 2-Speed 6.0 bHP
Pump 2: 56 Frame 2-Speed 6.0 bHP
Pump 3: 56 Frame 1-Speed 6.0 bHP
Steel Frame
Excel-X™ Simulated Wood
Perma-Shield™ Bottom Pan
Northern Exposure® Insulation System
Freeze/Overheat Protection System
Halo Pro-Loc™ Stainless Steel Jets
AquaGlo™
Aurora Cascade Water Feature – QTY: 4
Illuminated Spa Control Valves
Illuminated Drink Holders
SmartTouch 2 Controls
Perma-Shield™ Bottom
Optional Features
24-Hour Circulation Pump
Champagne Air with air injectors
Wifi Connectivity
CleanZone™ System
CleanZone™ Ultra Dual Sanitization System
Vita Tunes
Pedestal Lights
24-Hour Circ Pump (220V only)
* Please Note: All specifications and standard and optional features subject to change without notice – please confirm listing with your sales person before buying